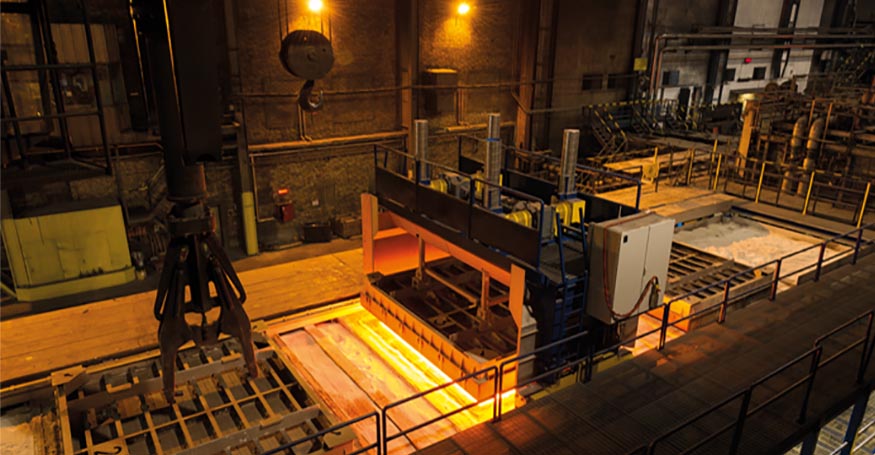 Turnkey supply to Sandvik's blooming mill
When Sandvik was going to invest in new pit furnaces for the blooming mill in Sandviken, they also invested in new, more effective techniques and a shift towards natural gas – all in a turnkey solution from AGA.
On the concrete floor of Sandvik's 450 meters long blooming mill in Sandviken there now stand four new pit furnaces. The heavy steel blocks are heated from within with a combustion technique that requires half as much energy as before. "It is an investment in a more effective and cleaner technique and a good example of an effective delivery and business model," says Peter Andersson, Senior Advisor for investment and projects at Sandvik.
Andersson refers to the plant, which began operations in August 2016, as a turnkey project. AGA developed, designed and organised the construction of the furnaces, arranged the gas supply and burner technology, managed the installation with subcontractors and lead the project. All in partnership with Sandvik.
"AGA is delivering the whole package, including construction of the furnaces, as our own furnace department, team Rebox, stands for. And we guarantee low energy consumption, good temperature uniformity, low emissions and increased capacity," says Ola Ritzén, application specialist at AGA.
Team Rebox was formerly known as UTAB in Västerås, and has made furnaces for the steel industry for over 100 years. The project deals with furnaces which have historically been known as pit furnaces. They are used to process long and/or flat steel products when heavy pieces of steel (blooms) are heated until soft enough to be worked (rolled). Similar to how smiths used to heat iron to be able to hammer it out on an anvil.
Oxygen injection at high speed
Energy saving with the new furnaces is made possible using modern burners: so-called flameless oxyfuel technology. Instead of using normal air for combustion, pure oxygen is used. In normal air, there is about 21 per cent oxygen, and around 78 per cent nitrogen, which is of no use in the combustion process. "If you inject oxygen at high speed, you avoid having to heat up a large amount of nitrogen.  You get the same energy output with lower gas emissions, which saves energy, increases capacity and reduces emissions. It is the best technique in the world for this type of furnace," says Anders Engbom, project leader for Team Rebox. Sandvik had modernisation of pit furnaces on the horizon for several years before beginning to discuss specifications and solutions with AGA again in autumn 2015. This is after carrying out several oxyfuel installations with AGA over the last few years.
Long term gas supply
The blooming mill will have the capacity to manage 1,000 tonnes of steel every week. How will the new installations manage without breakdowns? How will the furnace bodies be manufactured, being 5×5 metres and 4 metres high, which is too big for normal roads? How will the oxygen supply be secured? There are many questions to tackle.
The furnaces were constructed by Team Rebox in Västerås but built under AGA's supervision by a local company in Sandviken, from where they were individually driven by lorries through the town to the blooming mill. The lining, consisting of ceramic heat shields half a metre thick, and the electrical installation were managed on site by Sandvik according to the design plans developed by AGA. Oxygen had been used previously in Sandvik's production and AGA has an oxygen factory adjacent to the plant, which also serves other clients in the region with liquid gases. But the oxyfuel solution for several furnaces would require larger volumes of oxygen. The old gas factory had to be rebuilt.
"They previously used vaporised gas from liquid transferred via pipeline, but with the new furnaces it was more cost and energy effective to provide gas directly from the factory in gas form," explain Markus Birath, responsible for on-site business, including the new account. It required considerable investment. The solution was a long-term agreement in which Sandvik secured its gas supply for a long time, while also securing a clear and predictable price. "We have built a partnership with Sandvik, by which we help each other on both sides of our operations," says AGA's commercial manager Ola Ritzén.
Possibilty of using the existing chimney
Because Sandvik and AGA have introduced such a welcome conversion to natural gas in the steel industry, there are also possibilities to use the newer and cleaner fuel in the new furnaces. Therefore, a pipe was built from the newly built natural gas tank to the mill. The natural gas, CH4, comes cooled as a liquid at minus 160 degrees in tankers from Nynäshamn, where AGA has a terminal. It is vaporised through heat exchange with outside air in AGA's filling station for natural gas in the Sandvik area. Natural gas creates lower emissions of CO2, NOx and sulphur than oil and gas. It is interchangeable with biogas which also consists of methane. It is also a safer fuel because, among other things, it is lighter than air and has a higher ignition temperature.
"Gas emissions with oxyfuel technology are so limited that exhaust can be released through an existing chimney which can be used by several furnaces", says Ola Ritzén.  After the agreement was signed, it took just six months for the plant to be ready. Thanks to the excellent collaboration between project participants at AGA and Sandvik, the project has installed furnaces from scratch to operation at 380 calendar hours. It had to be fast to avoid disrupting operations.
It had to be fast to avoid disrupting operations.
Dialogue – an ingredient for succes
The project engaged up to 30-40 people from AGA, with sub-contractors, and with a focus on safety, good planning, risk analysis and collaboration, there have been no incidents.  "It all went incredibly well.  We have been able to coincide installation with production," says Peter Andersson at Sandvik. So, what is the key to such a smooth installation? "The short answer is that we have been in regular communication and planned everything together. We've been meeting every morning at 8am with operations personnel to make sure that we are not getting in each other's way," says Peter Andersson.  Soon before the holidays, everything was in place. Final inspections have received a thumbs-up concerning control systems, safety, feeds and all other parts of the plant.  "When production begins after the holidays it'll just be a case of doing it," says Andersson.
By: Johan Rapp
Photo: Cecilia Rudengren