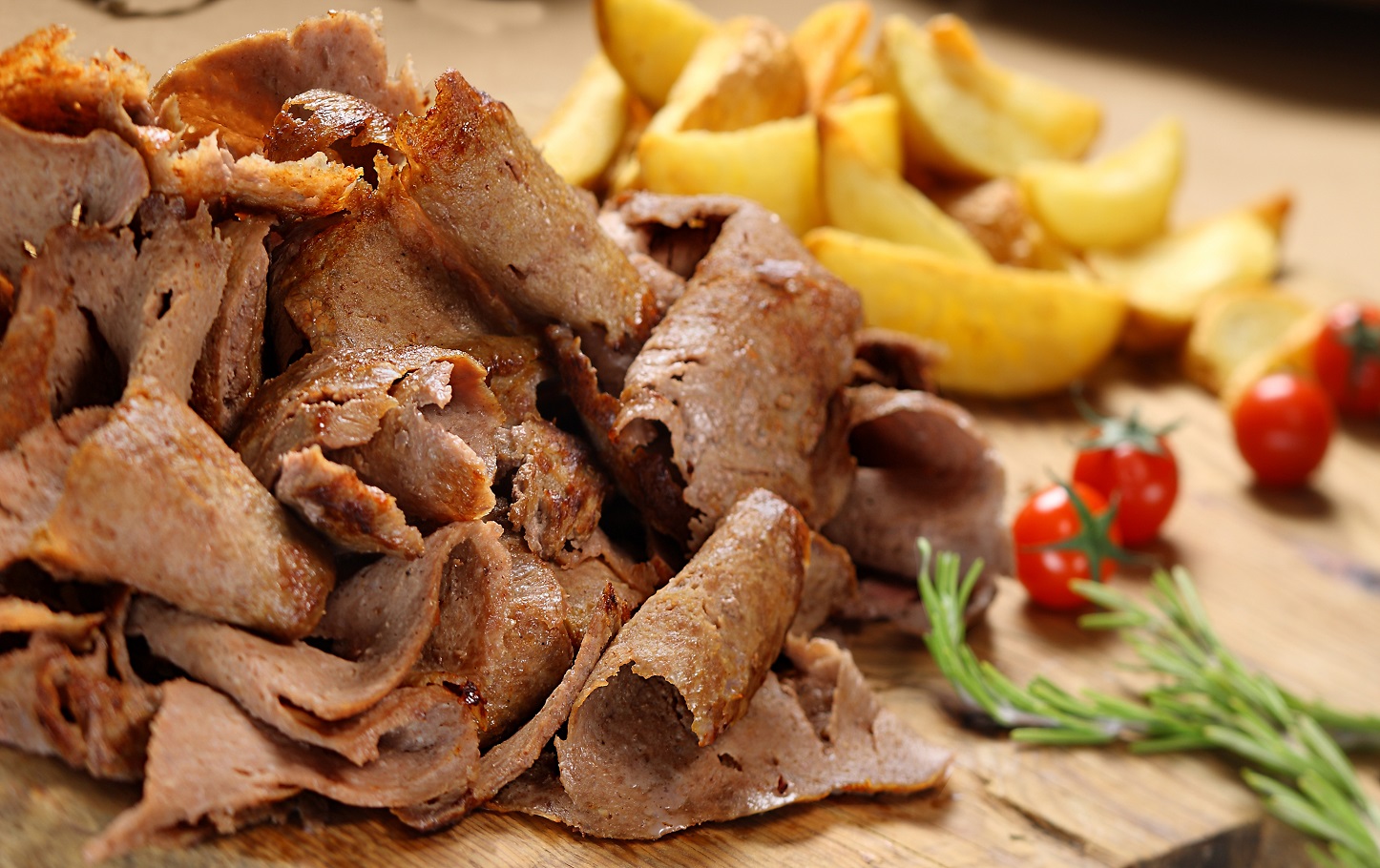 Premium quality kebab meat kept fresh with cryogenic shock freezing.
Quality is probably not the first word that springs to mind when you think of a delicious, juicy kebab. However, in Sweden, meat producer Meetab is setting itself apart from the competition by delivering kebab meat made from premium beef brisket and kept fresh with cryogenic shock freezing.

There are days when only a kebab will do. These days, this juicy, spicy and often greasy fast food staple is popular the world over – especially at the end of a big night out. But it has not always been this way.
The döner kebab is a centuries-old dish that can be traced back to the Ottoman Empire, where stacks of seasoned, sliced meat were cooked on a horizontal rotisserie. By the mid-19th century, it became apparent that, while spitting the meat horizontally caused the fat to drip into the fire and the flames to rise up, turning it vertically allowed the fat to run down the meat. This not only served to retain the juicy, grilled texture and mouth-watering flavour of the meat, but also kept the flames under control.
The sandwich version of the döner kebab originated in Istanbul in the 1960s, from where it spread to Germany and, later, established itself as the fast food of choice in countries like the U.K. and Sweden. In Sweden in particular, the kebab pizza has become an unrivalled best seller.
So what sets a quality kebab apart from a regular kebab?
"The quality of the meat!", states Gabi Hakim, founder of Meetab, a leading kebab meat producer from Linköping in Sweden. "Unfortunately, a lot of kebab meat is made from waste products from the slaughterhouse that are ground down and pressed onto a spit. But we use only certified premium beef brisket – which is leaner and healthier than the veal typically used for kebabs."
Meetab is one of few kebab meat producers to have been certified according to the FSSC 22000 Scheme for Food Safety Management Systems. Moreover, it works exclusively with carefully selected European farms and slaughterhouses.
At Meetab's production facility, the meat is ground down, spiced and grilled on spits – each weighing in at over 200 kg – using a gas burner and state-of-the-art robots.
"This is why our meat delivers a fresh grilled flavour and texture, instead of tasting like a rubbery lump of boiled meat," explains Hakim.
Once the meat is cooked, the robots slice thin shavings off the rotating spit, which are fed into a CRYOLINE® cryogenic freezer from Linde. The freezer, which has the capacity to process 500kg of meat per hour, shock freezes the meat before it is packaged using atmospheric packaging with nitrogen and carbon dioxide.
"Cryogenic shock freezing and atmospheric packaging preserve the freshness, taste and texture of the product, while killing all the harmful bacteria," explains Hakim, adding that this method also enables Meetab to freeze each piece individually, thus preventing the meat from lumping together.
"What the customer gets is a bag of thinly sliced, premium-quality kebab meat that tastes like it has just been freshly cooked on a rotisserie," he continues.
Although Meetab's product is on average 20 per cent more expensive than other kebab meat sold in Sweden, it has captured close to one-quarter of the market share. This equates to some seven to eight tonnes of kebab meat a day, just on the Swedish market. That's not all. In the coming three to four years, Meetab predicts its turnover on the retail market will increase up to fourfold – proving yet again that quality really does pay off.
Facts about Meetab
Headquartered in Linköping, Meetab is a Swedish meat producer that makes high-quality kebab meat from premium, grass-fed Irish and Austrian beef. Delivering seven to eight tonnes of kebab meat a day to the Swedish market, it employs 22 people and has an annual turnover of approximately EUR 12 million (SEK 120 million).
Text: Isabelle Kliger
Photo: Shutterstock