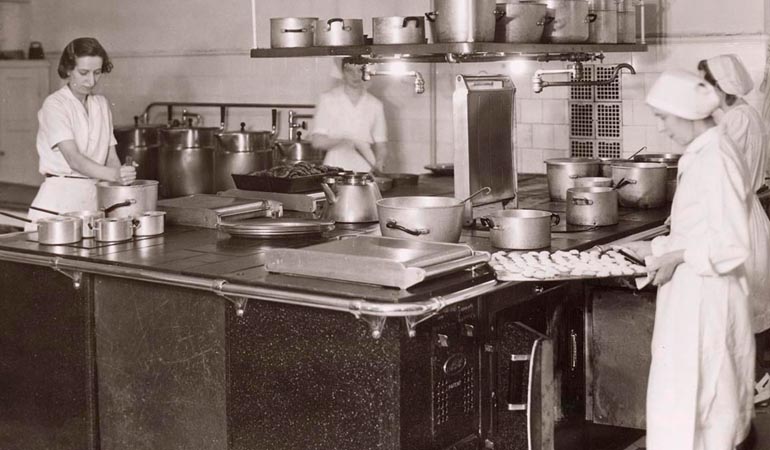 AGA cooker – An icon of the cooking industry
Forced to spend a longer period at home due to ill health, inventor and Nobel Prize winner Gustaf Dalén got to hear his wife Elma complaining about the difficulties she experienced while cooking – how the cooker guzzled fuel, that she constantly had to watch over the food, and how poorly designed the whole appliance was – complaints which proved to be the starting point for the AGA cooker.
As Gustaf was already blind by that time, he assigned the task of developing prototypes for the new cooker to the company he himself was Managing Director of – AGA. Once developed, his family would then describe the prototypes to him. After seven years of experimenting, the classic AGA design of cooker we now know was unveiled in 1929.
Blue flame
The furnace was unique and revolutionised the field of heating technology, centring around the 'blue flame', i.e. smokeless combustion, principle – and a heat efficiency that is second-to-none even today. Making use of radiant heat, rather than direct heat like most other furnaces, it was possible to use the same furnace for several different food dishes at the same time. For this reason, the cooker was a real boon for the majority of households. The cooker stayed on all day and night, with the constant heat regulated by a built-in thermostat, which in turn meant that the cooker required minimal attention and was fuel-efficient – the coke needed to be topped up just once a day. It would later be possible to fuel or power the cooker with wood, oil, gas or electricity. All AGA cookers have a hob that maintains a temperature of 400C and a simmering plate maintaining 200C. Two-oven AGA cookers meanwhile have a roasting oven that maintains a temperature of 220C and a simmering plate maintaining 100C, while the three-oven version also has a 180C baking oven, and the four-oven version a 100C warming oven.
The eventful 1950s
In 1948, over 100,000 cookers were sold around the world. The electric cooker was becoming increasingly popular during this time, however, which prompted AGA to introduce more colours to try and boost sales – which did the trick. The company stopped making AGA cookers on Swedish soil during the 1950s and relocated production to AGA in the UK.
Not just a cooker, more a way of living
Today, the cooker is less about foodstuffs and more about lifestyle, although this does require a certain amount of commitment. After all, it takes three days to install the furnace, which is constructed on-site by skilled professionals. As it is made from cast iron, the lightest cooker weighs in at approx. 400 kg, so it is wise to check your floor joists for compatibility before installation.
Text: Mathilda Simonsson
Bild: AGA