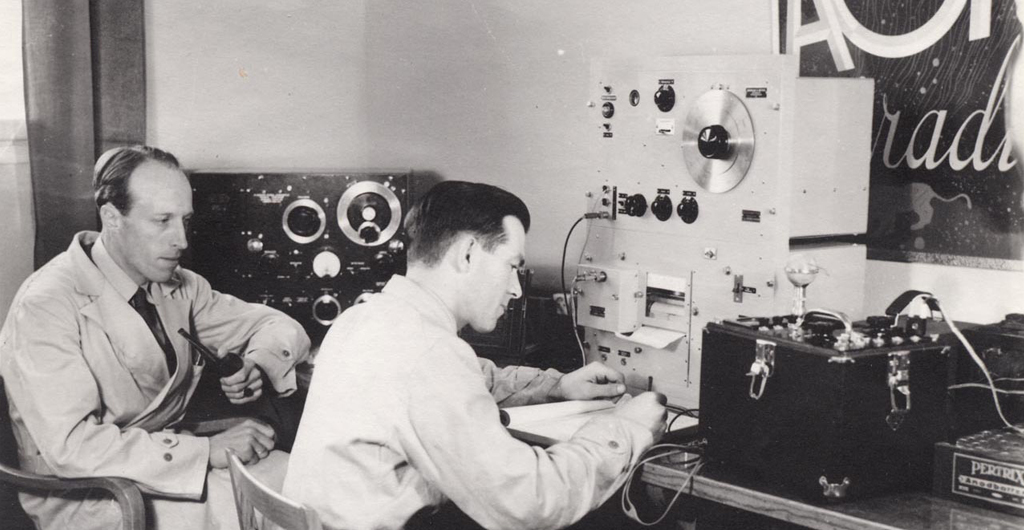 AGA – breaking new ground in radio and TV
Gustaf Dalén and AGA were pioneers in the development of radio and TV technology. Among other things, their work would lead to aircraft tracking equipment, the first radio with a built-in loudspeaker, police radio and colour television.
As a pioneer of radio technology, Gustaf Dalén saw the potential in the field and began to experiment with transmitting radio signals from aircraft as early as 1915. In the following year, he developed the process by attempting to establish contact between the plane and ground station via a transmitter. Despite their success, the experiments involving tracking and signalling were put on ice until 1922, when development resumed. The first aircraft tracking devices were sold in 1932.
Radio
Svenska Radio AB (SRA) was formed in 1919 as AGA, Asea and LM Ericsson began working together on the development of radio technology. The first programmes were broadcast in 1922. As the medium of radio began to grow and become popular in Sweden, AGA restarted its own radio division in 1924 and began producing crystal receivers, among other things. Europe's first radio with built-in loudspeaker was released for sale by AGA in 1927, and following a successful year, it acquired the firm Baltic Radio AB. In order to create a larger radio division, it then merged with AGA's own radio unit under the name AGA-Baltic AB. With manufacturing based in Lidingö, Stockholm, the radios became an important export product for Sweden.
The forerunner of the mobile phone
Developed in the early 1940s, the radio system which preceded the mobile phone was known as police or taxi radio, and had a range between 30 and 60 kilometres. The police in Gothenburg were the first to use the modern system, although others quickly followed. AGA continued to develop the radio system until 1974, before selling the division to Sonab.
A giant leap for TV
1948 marked a historic landmark for AGA, as the first ever test broadcasts for Swedish television took place at KTH Royal Institute of Technology in Stockholm. AGA was also one of the first European companies to begin manufacturing colour TV sets, with a set incorporating a colour TV system unveiled in 1952. In the early 1970s, the AGA name disappeared from all radios and TV sets as the operation was sold to Philips.
Text: Ina Zackari-Näär, Cecilia Rudengren
Foto: AGA