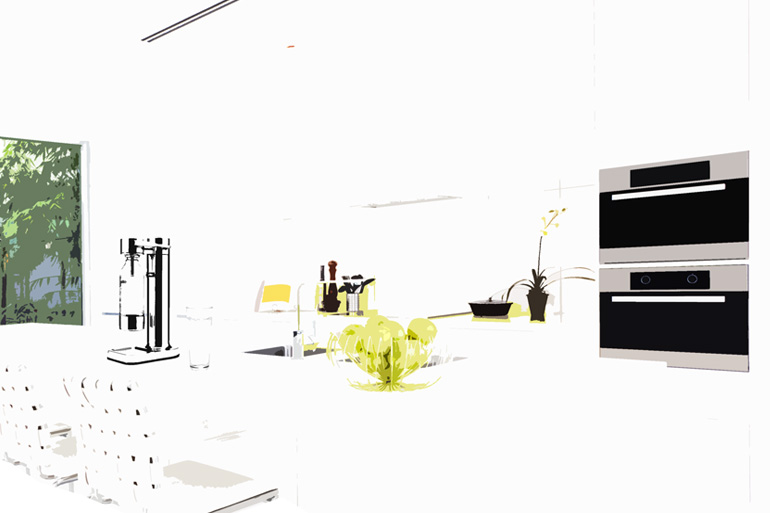 Aarke – adding style to everyday life
After 10 years working as consultants within industrial design and product development, Jonas Groth and Carl Ljungh decided it was time to take the next step. The result was Aarke, their very own brand. Their first product on the market is a sparkling water maker launched in collaboration with AGA, and the response has been excellent.
"After making products for other people for 10 years, we felt like we had a good grasp of the chain from idea to finished product and decided to do our own thing", explains Jonas Groth. Their brand is based on developing a range of stylish products, which add a touch of flair and elegance to everyday life and day-to-day tasks. Aarke is a Southern Sami word, meaning "everyday life". The first product to be unveiled, at the end of last year, was the Aarke Steel sparkling water maker, for which AGA retains exclusive distribution rights in Sweden, the other Nordic countries and the Baltic region.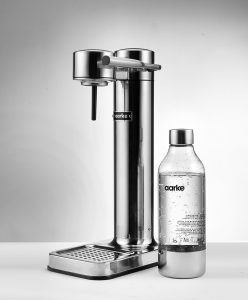 Aarke Steel – best in test
Aarke Steel rated best in test with a score of 5 out of 5 when TT News Agency recently reviewed the best models on the market today. The feedback was as follows: "Aarke is an elegant, robust model which adds a touch of style to your kitchen worktop" and "The manual is clear and straightforward, containing just the right amount of information". In second place, with a score of 4.6 out of 5, came AGA's former award-winning AQVIA Exclusive, while its new Happy model received excellent feedback and a rating of 3.3 out of 5 in the budget segment.*TT News Agency: Elegant and robust – Aarke Steel has it all. 19/09/2017
Like an Italian espresso machine
The sparkling water maker was inspired by Jonas and Carl's personal experiences. The pair observed there was nothing on the market stylish enough to have on the kitchen worktop, like an Italian espresso machine. "The sparkling water maker is a fantastic product we've both used at home every day for some time", explains Carl Ljungh. "Yet we thought there was a gap in the market for something more sophisticated, with slimmed down design and, above all, made fully from stainless steel." The idea of a more design-oriented sparkling water maker was backed up by friends, who agreed they appreciated the function of the machines available, but not the appearance.
"For those who were interested in design and classic kitchen products, there was no standout model on the market. A lot of people ended up storing their machines in the cupboard rather than having them in view. If you want to drink sparkling water several time a day though, it's far more convenient to have the machine close at hand", Carl adds.
Harder than imagined
It started with a design draft. "From the start we thought we had a simple product, with no power or circuit board, but how wrong we were", explains Jonas. "It's actually very complicated. Despite hiring external engineers to construct the machine we were forced to learn everything from scratch, in minute detail, such as exactly how all the valves function and integrate to ensure the machine is safe and easy to use."
Inspired to innovate
The two designers are driven by the desire to make a difference. They claim they never would have designed a sparkling water maker if they didn't think they could produce something which stood out from the crowd. "We would never step in to a new segment without trying to bring something new to the market. There are loads of well-designed products which work fine, but in our view, certain categories lack that really nice, stand-out model", Carl says.
Jonas and Carl were delighted to see Aarke Steel rate best in test, and hope it'll become a permanent fixture on the market in future. "We want to keep developing new machines and products within the segment, while also aiming to innovate in other categories", Jonas adds.
Text: Cecilia Rudengren & Mathilda Simonsson
Illustration: Cecilia Rudengren, Photo: Aarke