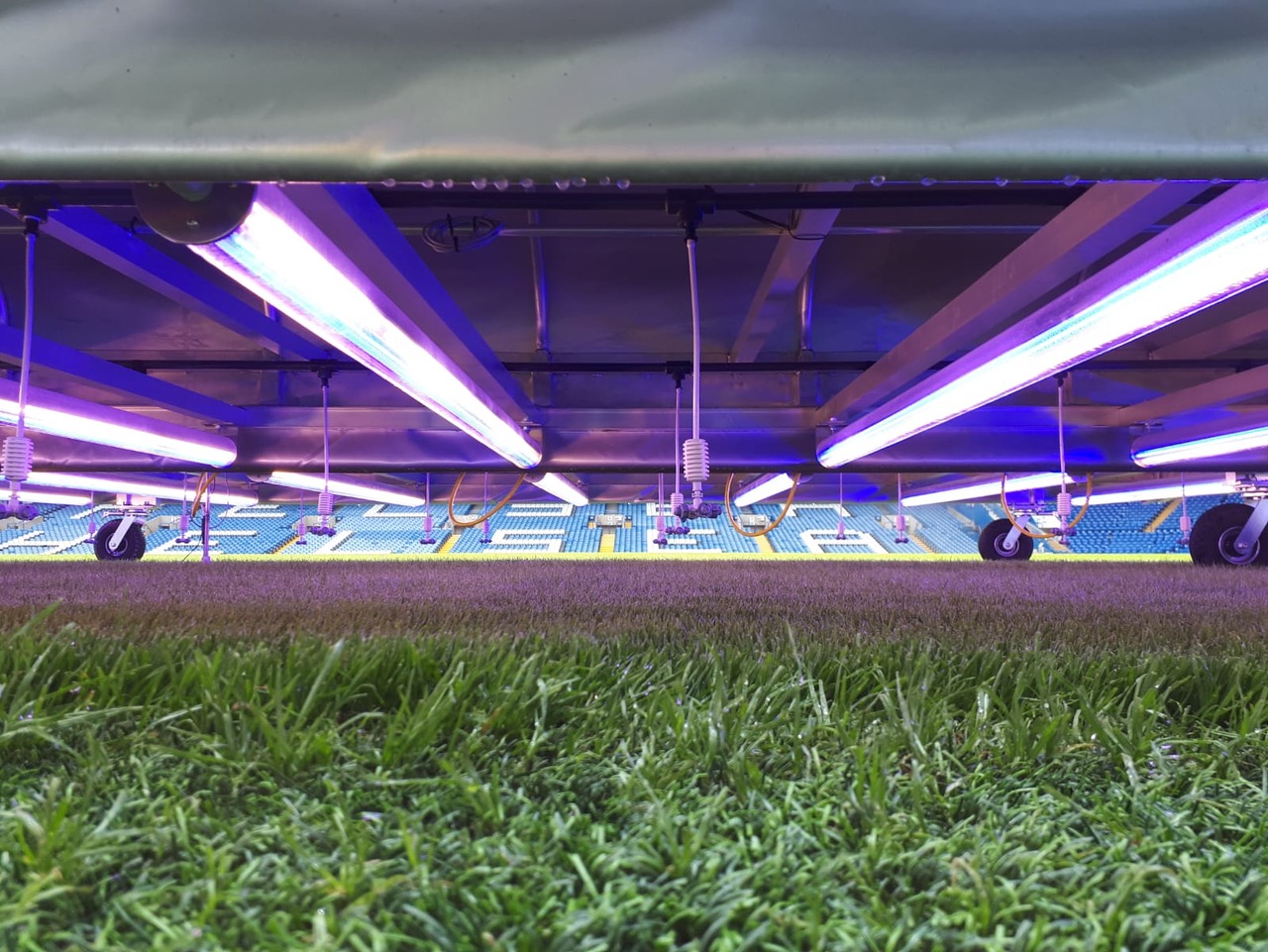 CO2 makes football pitches' grass greener
The skies above Haderslev football stadium in southern Denmark may be grey, and the temperatures hovering around freezing, but the pitch below remains a soft carpet of welcoming green.
It's as if the often-harsh Danish winter has somehow spared this oasis of lush grass from the wear and tear that turns many natural grass pitches into a muddy mess.
But the home field for Sønderjyske football club, which competes in Denmark's top league, didn't always look like this. Up until last year, the turf was often in rough shape.
"We had a really hard time with the grass in front of the goal mouths, especially on one end that is almost always in the shade. We just couldn't get new grass to grow," explains Haderslev groundskeeper Allan Feddersen.
A mobile greenhouse
But early last year, Feddersen learned about mobile greenhouse technology from SeeGrow, a UK-based company with roots in Linde Gas that applies horticulture technology to help rejuvenate grass surfaces.
Eager to improve what seemed like a hopeless situation at Haderslev, Feddersen decided to test the technology for a few months.
While the SeeGrow installation at Haderslev is the first of its kind in Scandinavia, the CO2 and light technology it uses has been around for more than a decade.
Originally pioneered Netherlands-based Linde Gas employees Peter Krabbendam and Felix Oudshoorn, the first SeeGrow mobile greenhouse was installed at the home stadium of Dutch football club FC Groningen in 2007.
"The basic idea was to use the same technology used to grow roses, cucumbers, and tomatoes in greenhouses and apply horticultural methods to a football pitch," explains Oudshoorn, who is now European sales manager with SeeGrow.
Heightened CO2 levels for optimal growth
Grass in football stadiums – especially stadiums in temperate European climates where rain and snow are commonplace – faces intensive use that inhibits recovery. But SeeGrow helps overcome this problem by creating optimal conditions that help speed up growth.
CO2 – the key ingredient in the photosynthesis that makes grass grow – is a critical part of the solution. The SeeGrow system distributes CO2 through Linde's patented SOLVOX ® B diffuser.
SeeGrow's mobile greenhouses increase CO2 levels up to 1,200 – 1,500 PPM, more than three to four times normal CO2 levels in the atmosphere. The heightened CO2 levels are combined with light from LED devices that can be adjusted emit light tailored to the specific type of grass and pitch conditions.
According to Oudshoorn, the SeeGrow can result in growth rates of up to 10-12 mm/day, roughly three to four times grass's regular growth rate.
And those claims are backed up by the initial results from Haderslev, where Feddersen saw growth of between one and two centimetres within a couple of days of rolling the SeeGrow tent out in front of the goal mouth.
"We could see a clear difference with SeeGrow. The grass reacted quickly and grew really fast," he recalls.
'The most cost-effective way to improve our pitch'
The results from the trial were so convincing that Feddersen decided Haderslev should have a SeeGrow tent permanently, placing an order for a 14 m2 tent that's used primarily in front of the goal mouths.
"The Sønderjyske goalkeeper coaches are quite happy with situation compared to a few years ago," he adds.
SeeGrow technology is already found at close to 50 major football stadiums, including several iconic stadiums across Europe like Wembley in London, Stade de France in Paris, and San Siro in Milan.
While Haderslev may be the first stadium in Scandinavia to use SeeGrow's CO2 and light-based system, Feddersen is certain that other clubs will follow in Sønderjyske's footsteps.
"It's the best and most cost-effective way to improve our pitch. It's simple to use and works extremely well," he says.
Text: David Landes
Images: SeeGrow; Allan Feddersen