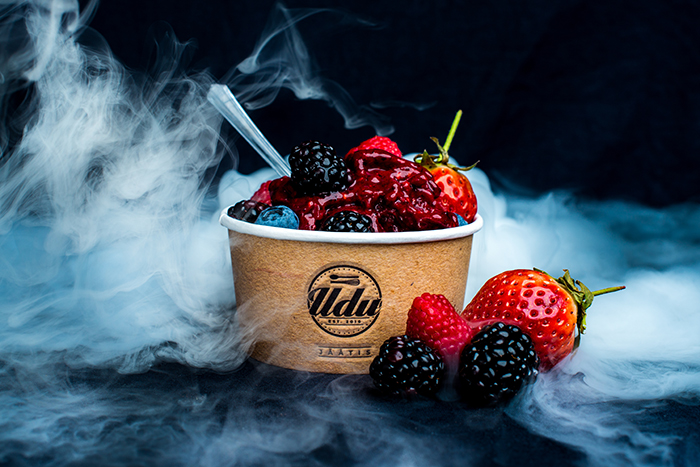 Liquid nitrogen makes spectacular, natural ice cream
Udu Nitrogen Ice Cream Bar in Tallinn, Estonia, has created a one-of-a-kind product in its mobile ice cream bar. Using a custom-made production system, it uses liquefied nitrogen to create spectacular, delicious ice cream for its mesmerised customers. The result is a unique sensory experience for the eyes and the taste buds.
Udu Nitrogen Ice Cream Bar is a mobile nitrogen ice cream bar that specialises in making ice cream on the spot in front of its guests' eyes. What sets it apart is that it uses liquefied nitrogen in the preparation process. The temperature of liquid nitrogen is -196°C, so its freezing process takes effect in seconds, making the finished product incredibly soft. What is more, the liquid nitrogen creates an impressive cloud of mist around the ice cream.
Kaili Adamson, Co-founder of Udu Nitrogen Ice Cream Bar says there are many different ways to make ice cream but that she and Udu co-founder Jane Tuha opted for liquid nitrogen from the very beginning, as part of their unique concept.
"You can make ice cream easily at home with a mixer and freezer or industrially in large quantities, but we wanted to make artisanal ice cream," she says, explaining that Udu has developed its own special production system.
"We wanted the process to be efficient, convenient and fast, so we used mixers and customised a liquid nitrogen device system," she adds.
Safety precautions required
There are two principal reasons for using liquid nitrogen – its freezing properties and the dramatic effect it creates when making the ice cream.
"The advantages of using liquid nitrogen are the super-quick freezing process, the spectacular, smoky effect it produces and the soft texture of the product itself. This is because the ice crystals in the ice cream remain very small, due to the extremely low temperature of the liquid nitrogen. In addition, we don't need to use chemicals to make our ice cream, which ensures its natural, genuine flavour," continues Adamson.
The liquid nitrogen is also easy to transport and enables Udu to provide a convenient mobile solution and the ability easily to travel around to corporate and private events.
Adamson explains that the use of liquid nitrogen requires adherence to a set of specific safety precautions. To ensure that nobody gets injured during its handling, the liquid nitrogen is never poured manually. Instead, it is dispensed using a special device, while the person operating it uses safety goggles and protective gloves.
So far Udu has developed more than 30 different flavours of its ice cream, although there is no fixed menu, and clients also have the option of customising their own varieties based on their taste preferences. Udu prefers to use local, in-season ingredients and also makes vegan ice cream and ice cream with alcohol.

"Our ice cream is more than just another product, it's a sensory experience for the eyes and the taste buds. For corporate events we give customers the option to brand our counter and cups and even develop special flavours, often based on their own products. We have found this to be a great marketing tool for our clients," Adamson concludes.
Text: Isabelle Kliger
Photo: Udu Nitrogen Ice Cream Bar