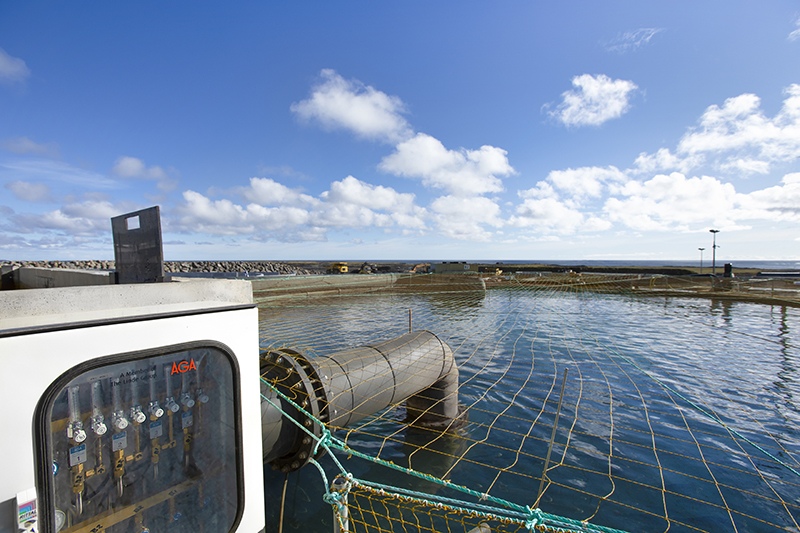 Land-based fish farming for a sustainable future
Around the world, land-based aquaculture facilities are increasingly being considered as a more sustainable alternative to open-water fish farms. One geographic location that is particularly well suited to land-based fish farming is Iceland – something that Matorka, a pioneering farmer of Arctic charr, has turned to its advantage.
Open-water fish farming can be a risky business. Some of the challenges that need to be taken into account when farming in natural marine environment include the spread of disease, antibiotic resistance, sea lice, and, of course, escape. Meanwhile, the use of costly, environmentally unsound chemicals and insecticides is unavoidable.
Until just a few years ago, land-based fish farming was considered too costly, but this is changing as systems and technologies become increasingly sophisticated. The projected growth of land-based fish farming in the years to come will be buoyed by innovating companies like AGA, which are developing the cutting-edge technologies, such as oxygenation systems and Recirculation Aquaculture Systems (RAS).
Facts about Matorka
Founded Iceland in 2010, Matorka has focused on land-based aquaculture since its inception. The company currently produces 1,500 metric tonnes of Arctic charr per year but is in the process of doubling its production capacity and also extending it to include steelhead and, eventually, Atlantic salmon. Matorka's products are primarily distributed to North America and Europe, enabling thousands of customers every day to enjoy its environmentally sound, healthy farmed fish products.
Fish farming in Iceland
One company that is leading the pack when it comes to land-based fish farming is Icelandic Matorka. Founded in 2010, Matorka is currently in the process of doubling the size and capacity of its facility – from 10,000 cubic metres with the capacity to produce 1,500 tonnes of fish a year, to 20,000 cubic metres and 3,000 tonnes of fish.
Matorka CEO Árni Páll Einarsson explains that the mix of climatic and geological conditions in Iceland makes it uniquely suited to land-based fish farming.
"The geothermal conditions allow us to optimise water temperature, while good access to groundwater and inexpensive hydroelectric power combine to enable smooth, efficient and cost-effective fish farming," he says.
Energy-efficient, sustainable fish farming
Matorka's fish farm includes a number of unique design elements that further enhance energy efficiency and environmental performance. The facility is designed as a modular system, with each module consisting of a raceway at the top, linked to three grow-out tanks. Each tank sits 1.2 metres below the one above, allowing water to flow from one tank to the next using only the power of gravity.
"The only time we pump water is to bring it from our wells into the system. After that, everything happens naturally," explains Einarsson, adding that only 20 per cent of the water is released to clean out waste, while 80 per cent is re-circulated.
Another unique feature of the Matorka fish farm is that one single mixing tank is used both to the mix the water from the wells and purge the fish prior to harvest. Investing in one multi-purpose tank instead of two reduces capital expenditure.
Setting a new standard
Going forward, the company will continue to seek new ways to make its facility as energy efficient and sustainable as possible. For example, the entire farm is being designed to allow solids and effluent to be removed from the wastewater before it is released to the sea – a project that is set for completion in 2020.
"We're operating a one-of-a-kind aquaculture station specifically designed for our production needs and location. By combining proven aquaculture technologies with our own in-house design features, I believe we're setting new standard in sustainable salmon production," concludes Einarsson.
Text: Isabelle Kliger
Photo: Linde