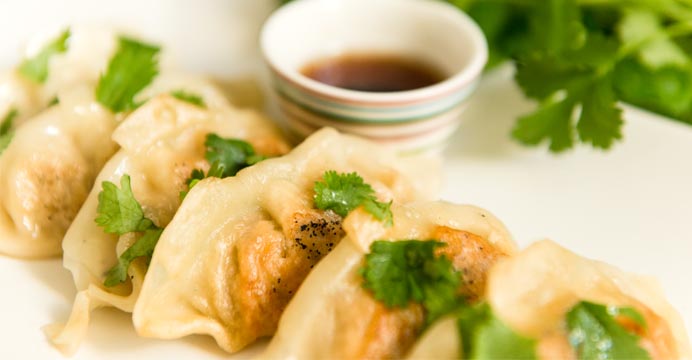 Japanese flavours for Swedish taste buds
How do you maintain the delicate flavours of Japanese cuisine in a frozen product? Can food be mass-produced without compromising on quality and food safety? And is it possible to create a product for the Swedish market that respects the long-standing traditions of Japanese food culture? These are just some of the questions that came up when AGA paid a visit to its customer Naoi Group, a Japanese food producer based in Stockholm.
Founded by Kyoko Naoi in 1986, Naoi Group delivers authentic Japanese cuisine to the Swedish market. The company's speciality is Japanese dumplings, or gyoza, which it produces in its recently redeveloped, ultra-modern facility in Vällingby, just outside Stockholm.
From import to in-house-production
Naoi explains that she moved to Sweden in 1982, having previously worked as an air stewardess. She was struck by the lack of fresh Japanese products in her adopted country and it didn't take long for her to start her own Japanese food import business.
For 25 years, the Naoi Group imported products for sushi bars and restaurants before starting its own production and taking on the grocerytrade in 2007. These days, the company focuses exclusively on its in-house product-ion of Japanese food for Swedish restaurants, wholesalers and consumers.
Variety of taste buds
One thing that all ten employees at Naoi Group have in common is a love of food. On this particular evening, some of them have come together for a tasting session. The subject: a new salmon dumpling that is currently under development. Sales Manager, Hans Philippi, a trained chef, joined Naoi Group in 2007.
"We're a very international group, representing lots of different cultures," he explains. "The diversity is really useful when we're developing a new product as we're able to get lots of different taste buds involved in testing the new recipes."
Northeners like it sweet
Lisa Green, Naoi Group's Head of Quality and Food Safety, is a passionate foodie who moved to Stockholm from Akron, Ohio, in the USA,23 years ago. "Something that's struck me about the Nordic countries is that the people here really seem to love dairy products and sauces," says Green.  "Sweet sauces are much more common in Northern Europe than where I come from," agrees Naoi. "In Japan, we use mirin, or rice wine, in the cooking process, so adding a sweet sauce or serving a dessert isn't really necessary." "The only thing we talk about at this company is food – every day, all the time," jokes Philippi.
Based on japanese traditions
Although Naoi Group also produces edamame beans (immature soybeans in the pod) and yakiniku (a Japanese dish made of grilled meat), its main speciality is dumplings.
Naoi Group's own-brand MenMen dumplings are based on a traditional Japanese gyoza recipe. They contain a small amount of soy sauce and salt and are typically served with a dipping sauce based on soy sauce and vinegar. The MenMen dumplings are pre-steamed prior to freezing and can be fried, microwaved, steamed or boiled in soup, directly from frozen.
Fresh vegetables
Green explains that the dumplings are made entirely from fresh ingredients and do not contain any artificial preservatives. Moreover, she says all the dumpling varieties have a high vegetable content, adding that even the meat dumplings are actually filled with nearly 80 per cent fresh vegetables. "White cabbage is a great ingredient, with its high anti-oxidant content, while water chestnuts add a nice crunch to the texture," she says. Naoi adds that dumplings are a food that is perfectly suited to being frozen, a process that occurs at Naoi Group using a Merlin MT Cryogenic Tunnel Freezer supplied by AGA.
Fact box
Dumpling is a broad classification for a dish that consists of small pieces of dough, often wrapped around a filling, known as gyoza, dim sum, jiaozi or mandu. MenMen Dumplings are based on a traditional japanese gyoza receipt, and made with three kinds of filling: vegan, chicken and minced meat. Gyoza are usually served with a soy and vinager based dip sauce. MenMen dumplings can be cooked directly from the freezer by boiling, frying, simmering or in the micro.
Automated production
In 2014, Naoi Group initiated a project to redevelop its facility in Vällingby. This has resulted in an entirely automated production process, with the exception of the packing, which is still done by hand. AGA has been involved in supporting the redevelopment of the facility from start to finish, not least through the installation of the new tunnel freezer, which has been in use since May this year. Lars-Åke Hansson, AGA's Account Manager responsible for Naoi Group, explains that this freezer type ensures a high-quality frozen product, as well as energy-efficient operations, compared with other types of linear tunnel freezers. The eight-metre long Cryogenic Tunnel Freezer gets its freezing power from liquid nitrogen. The freezer is fitted with a gas tank that dispenses liquid nitrogen through a tube. The amount of nitrogen fed in depends on how cold the freezer needs to be.
Freeze lab tests
Hansson explains that AGA has carried out extensive tests on Naoi Group products at its testing facility in Helsingborg. "We typically ask new customers to provide us with samples of their products so that we can test them to find the best freezer solution for their needs," he says. In 2015, three different types of MenMen dumplings were tested at AGA's facility.
"By warming the dumplings to a realistic steaming temperature and then freezing them, we were able to establish what Naoi Group needed in terms of the length of the tunnel, the amount of liquid nitrogen and additional equipment," says Hansson.
Structure and shape
Hansson explains that it would be possible to freeze the dumplings more quickly but that Naoi Group chose this process in order to maintain the shape of the dumplings. "With AGA's freezing technology, the process happens very quickly, in order not to allow enough time for the structures inside the food to be broken down," says Hansson.
"This prevents the loss of fluid and reduct-ion in flavour that might otherwise occur in a slower freezing process. Instead, all the taste is safely encapsulated inside the dumpling," he concludes.
By: Isabelle Kliger
Photo: Cecilia Rudengren