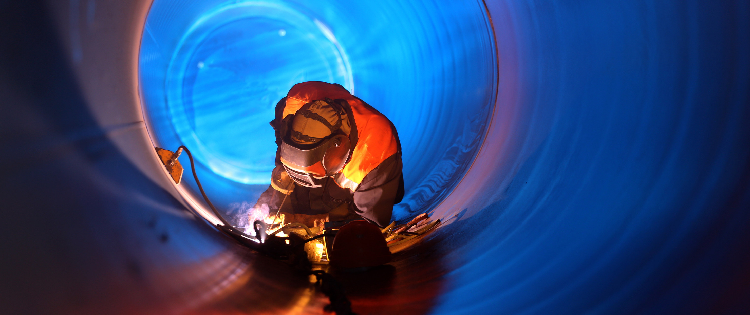 Gases drive sustainability in industrial manufacturing
The ways in which gas is used and delivered is undergoing rapid transformation, driven by growing demand for sustainability and efficiency. Gases drive sustainability in industrial manufacturing. We asked Linde's foremost gas experts to share their view on how the market for different kinds of gas will develop as the world changes.
Modern consumers and customers share a similar set of demands irrespective of what they do. Increased convenience, efficiency, productivity and sustainability – these are the tendencies driving the market across virtually every industry.
Additive manufacturing is the future
One emerging technology that looks set to revolutionize the future of product development, manufacturing and logistics is Additive Manufacturing (AM). It will also deliver considerable sustainability gains across a variety of sectors.
By reducing the number of manufacturing steps and minimizing the amount of metal needed to achieve the desired results, AM has the potential to dramatically reduce energy consumption and material waste. Moreover, the 3D printing process will allow more production to be undertaken locally, thereby reducing transport needs.
So where does gas come in to AM?
AM uses metal powder or wire to produce metallic products by means of three-dimensional printing (3D printing), through a process that is similar in many ways to welding, and also uses process gases such as Argon to create an optimal atmosphere. This is why companies like Linde, with its unrivaled experience and knowledge of gas, metallurgy and welding, are establishing themselves as preferred partners to the growing AM sector.
Bo Williamsson, Manager Laser and Additive Manufacturing within Linde Region Europe North, says AM will transform metal production forever, making it possible to print geometries that would previously not have been possible.
"Going forward, time-consuming processes that used to involve multiple production stages will be printed in one sequence, reducing material usage and waste, minimizing energy consumption and transport, and resulting in end products that are stronger, lighter, more energy efficient and, last but not least, more aesthetically pleasing," he says.
Food for thought

As humans seek more efficient, sustainable solutions to all aspects of life, one practice that is set to play a key part is fish farming, or aquaculture. Recent studies suggest that, by 2050, we will need to produce 70 per cent more food than we do today, with the majority of our protein coming from either seafood or vegetables.
Meanwhile, land-based fish farming is starting to be viewed as an increasingly viable alternative to open-water farming, which is vulnerable to risks ranging from disease to escape. It is also easier to control the environmental factors within the facility – something that will support the expansion of the industry.
"Fish farms are about to start moving away from traditional locations in places like Norway, as land-based systems make us less dependent on environmental factors."
"In the long term, we could see fish farms being set up in urban locations around the world, closer to the market demand," says Peter Jansson, Head of Linde Region Europe Norths Food & Beverage Business Unit.
The projected growth of land-based fish farming will be buoyed by innovating companies like Linde that develop cutting-edge technologies, such as oxygenation systems and reliable oxygen supply for Recirculation Aquaculture Systems (RAS).
Supported by the expertise provided by Lindes aquaculture R&D facility, Innovation Center for Aquaculture and Water Treatment, in Norway, Linde is already involved in several RAS projects in Norway, Iceland, Denmark and Finland. In the near future, companies will also be starting up projects in Sweden – many of which are currently seeking planning permission to set up large-scale land-based fish farms.
Sustainable metallurgy
Meanwhile, in metallurgy, sustainability is the name of the game. In Sweden, a number of leading industries have joined forces to revolutionise steel making, declaring their joint commitment to replace coking coal, traditionally needed for ore-based steel making, with hydrogen. The result will be the world's first fossil-free steel-making technology, with virtually no carbon footprint.
Read more about our gases and equipment.
Here too, gas is set to play a central part, as the hydrogen may be produced through electrolysis, which requires green electricity or reforming bio-fuels, of which oxygen and nitrogen are essential elements. Oxygen, which is a co-product of the electrolysis of water, may also be used to increase combustion efficiency and reduce emissions.
"As Sweden's leading supplier of hydrogen gas, we're ready to support a fossil-free future," says Ola Ritzén, Product Manager Metallurgy.
"Linde is also the company in the Nordic region with the broadest experience of electrolysis, oxygen-enhanced combustion, as well as the capacity to supply the gases needed for these processes."
Efficient, easy-to-use gas cylinders
It is not only the use of gas that is becoming more efficient and sustainable, the same also goes for the ways in which it is handled and delivered.
"Cylinders these days fit far more gas into a cylinder that weights less, or more or less the same, but is significantly easier to handle than its predecessors," says Per Abrahamsson, Market Manager Packages at Linde Region Europe North.
In 2013, Linde revolutionised the way gas is delivered and handled, with the introduction of its state-of-the-art 20-litre GENIE cylinder. Apart from its ability to holds up to 45 per cent more gas in a cylinder that is also lighter and more stable than a regular cylinder, as well as featuring built-in technology displaying content and time left for welding, the GENIE is also considerably easier for operators to handle. Later this year, a similar shift is set to take place in the 50-litre category as Linde introduces the EVOS ViPR 300Bar 50L. The result is that, these days, gas cylinders are more efficient, lighter and easier to handle, and also require less storage space and fewer transports to deliver the same amount of gas.
Gases drive sustainability in industrial manufacturing
"As we move towards a greener future, it is clear that gas is set to play a key part – supporting the development of more efficient, sustainable ways for human beings to transport, deliver and manufacture goods, and sustain themselves, for this generation and the generations to come. Gases drive sustainability in industrial manufacturing," says Bo Williamsson.
Access additional articles on how gases contribute to sustainability.
Text: Tale.