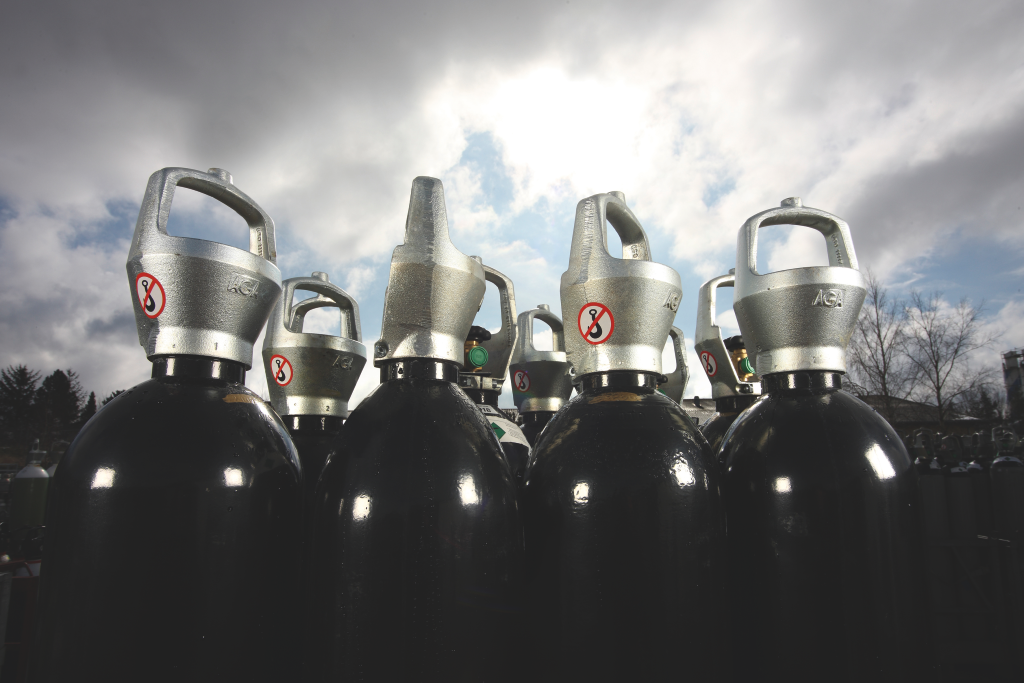 Gas cylinder maintenance: the untold story
If gas cylinders could talk, they'd have quite a story to tell. At any given moment, there are more than one million Linde gas cylinders in circulation around the Nordic and Baltic region. And each one has taken a unique journey, likely traveling hundreds, perhaps thousands of kilometers; through dense forests or across yawning seas; from hospitals and workshops to greenhouses and breweries and many places in between.
And while each cylinder's journey is unique, they all have one destination in common. No matter where a cylinder's been or what gas it's contained, at least once every ten years it makes a pilgrimage to Linde's cylinder maintenance facility in Knivsta, north of Stockholm.
Inside this unassuming building you'll find an impressive array of sophisticated machinery and a capable team of 29 highly trained inspectors and technicians.
"Our employees are required to go through a rigorous training program that can take anywhere from six to eight months before they can become certified inspectors," explains site manager Pierre Björklund.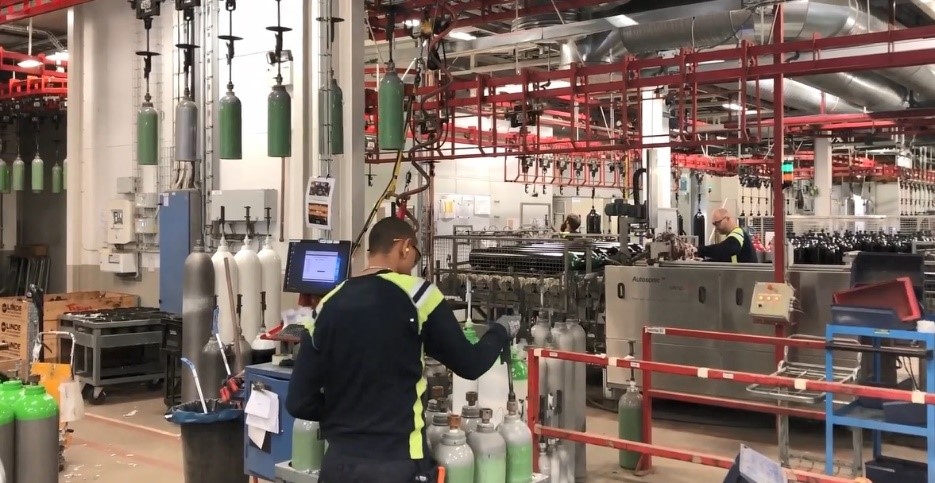 Demounting and blasting
All the steel cylinders that come through Knivsta are for the Swedish and Norwegian markets, and range in size from 2.5 liters up to 50 liters. Every week, the Knivsta facility processes around 1,600 cylinders, with thousands more stored outside awaiting processing. Exactly which cylinders enter the facility is determined by a complex inventory management system that ensures the right cylinders are inspected and processed to meet customers' needs.
After being brought into the facility, a cylinder has its cap and valve removed in a process known as demounting. The cylinder then undergoes an internal inspection to identify possible cracks, rust, moisture or other foreign debris. Data is then entered in a maintenance log before the cylinder is placed on a ceiling-mounted conveyor belt that transports it slowly and steadily toward the next phase of its journey in Knivsta.
After a few minutes floating calmly through the air, the cylinder enters a decidedly harsher environment: the blasting chamber. Here the cylinder is blasted with an abrasive material under high pressure to remove any remaining paint, labels, or other residue. The cylinder emerges with a smooth, silver grey finish, at which point it is weighed before entering the inspection room.
Inspection room
In the inspection room, a technician performs an external inspection of the cylinder to ensure there is no remaining paint or other abnormalities.
"Roughly three to six percent of cylinders don't make it past this stage and need to be removed from the processing line," Björklund explains.
Those that do make it past inspection are then stamped with information corresponding to the type of gas the cylinder will eventually contain. All the relevant data about the cylinder is then entered into a digital database.
"The information in the database serves as proof that we've carried out a comprehensive inspection. It also makes the cylinders traceable via a unique ID number associated with each cylinder," says Björklund.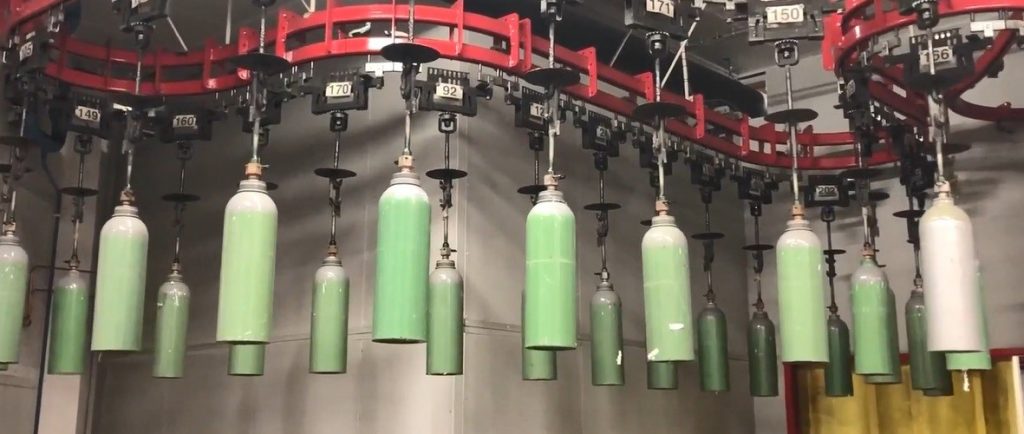 Color-coded paints
During the next phase, the cylinder is coated with a powder-like paint. To ensure the powder binds with the surface of the cylinder, it then goes through an oven where they are baked at 200 degrees Celsius. A cylinder's body colour is determined by a standard colour-coding system: green for food grade gases; silver for specialty gases; black for industrial gases; white for medical gases.
After the cylinder's base colour is baked on, the top of the cylinder is also painted any a number of colours to indicate what sort of gas is inside. For example, a green top indicates a mixed gas; red-topped cylinders contain flammable gases; and a yellow top indicates a flammable gas.
"These cylinders will eventually be filled with food grade gases, medical gases, specialty gases, and other industrial gases," Björklund explains.
After the painting process is completed, the cylinder has time to cool as it's transported on the conveyor belt to another part of the facility.
Ultrasonic testing
This next stop is perhaps the most high-tech on the cylinder's journey through Knivsta. Here the cylinder is removed from the conveyor belt and placed on a rack to be fed into an ultrasonic testing station. The cylinder is placed on its side and spun around its central axis while a collection of ultrasound scanners hover above it. A computer screen displays a real-time read-out of the scanners' findings.
"We use the ultrasound to look for defects. It allows us to identify abnormalities that we wouldn't be able to see with the naked eye. We're talking about extremely small, microscopic defects inside the steel itself," explains Robert Johansson, Ultrasonic Operator at Knivsta.
After ultrasonic testing is completed, the cylinder is transferred to the final station where a new valve and cap are mounted on top and new labels are applied. At this point, its status is altered in the database from "under maintenance" to "ready to be filled". It is transferred then to the loading area, where it sits alongside the dozens of other cylinders that are ready to embark on the next phase of their journey at one of Linde's customers.
Safe and reliable cylinders
Over the course of an average year, the Knivsta facility conducts maintenance on close to 100,000 cylinders, roughly 10 percent of the overall inventory.
"I'm guessing our customers and probably even a lot of employees elsewhere within Linde don't think about all the work involved in cylinder maintenance," says Björklund, adding that it's not uncommon for around a dozen people to come in contact with a single cylinder during its relatively short time at Knivsta.
"But we do all this, so our customers end up with a high-quality product," he continues. "We want them to get cylinders that are safe and reliable."
Text: David Landes
Images: Linde