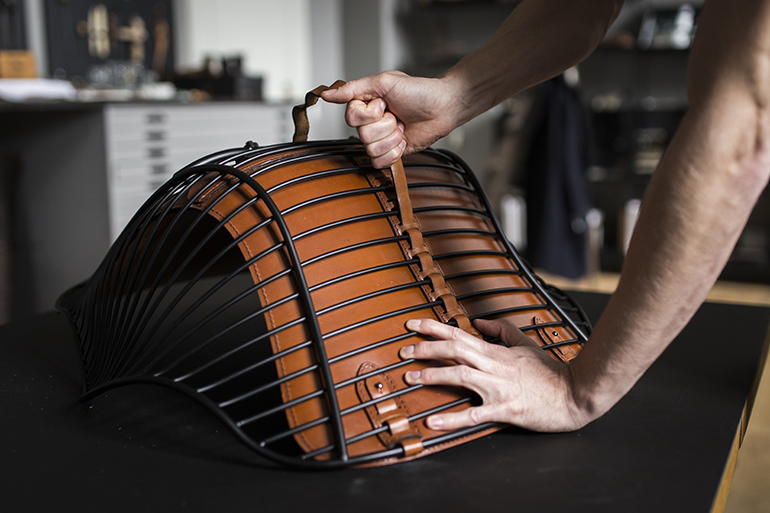 Danes breathe new life into old craftsmanship traditions
They breathe new life into craftsmanship traditions that have long since died out, combine 3D design with saddlery and spread a feeling of indomitable intransigence. Their furniture of steel and leather shines with pride throughout the world but they themselves are most at home developing their designs in the workshop. Their name are Overgaard & Dyrman.
Way up north, in the middle of nowhere and yet in the middle of everything, one can hear the sound of steel being forged. The North Jutland hands performing the work are in demand worldwide, but are most at home in a workshop in Vestbjerg, where the whistle of the birds blends with the crackle of the welding.
One can feel the presence of history from the millennia-old ice age landscape at Hammer Bakke as it looks on in silence, while chairs, tables and benches slowly emerge. The landscape has no idea that it has more than likely inspired two young men to preserve old traditions and live out a rarely seen aesthetic intransigence. Meet Christian Dyrman and Jasper Overgaard, who consider themselves to be technology nerds and take pride in producing furniture with a healthy dosage of bare fists, old craftsmanship traditions and new computer technology.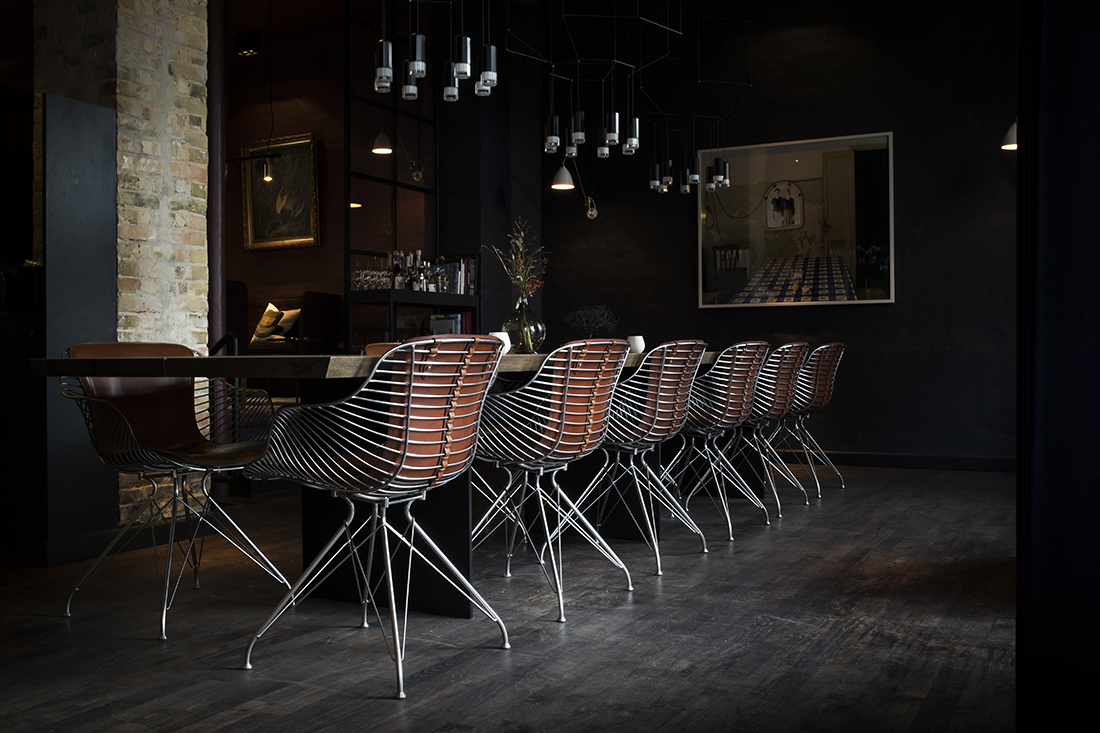 The furniture dream is born
Behind the name Overgaard & Dyrman are the two entrepreneurs Christian Dyrman and Jasper Overgaard. Their story begins 10 years ago when they meet durin the programme for Industrial Design, which was part of their engineering education at Aalborg University. The education was group-oriented but Christian and Jasper quickly found space in the curriculum, which enabled them to work alone. Little did they know that in 10 years' time, their target-orientation would be in demand  all over the world.
The engineering studies serve as a kick-start for their collaboration and teach them all about technology, but the need to dig down deeper into the design profession will only grow bigger with time. "When you design furniture, you have to touch the materials. You have to feel it," says Christian Dyrman. He points at his computer display and the chair from their Wire collection starts to turn around. "You have to plan and try out every single detail. Therefore, you have to use both drawing programmes and 1:1 scale models." he says. Christian and Jasper pursued their need for creativity, dropped out of their studies in Aalborg and graduated from the Danish Design School in Copenhagen. The workshop facilities at the school prove to be the perfect leverage for their imagination and creativity.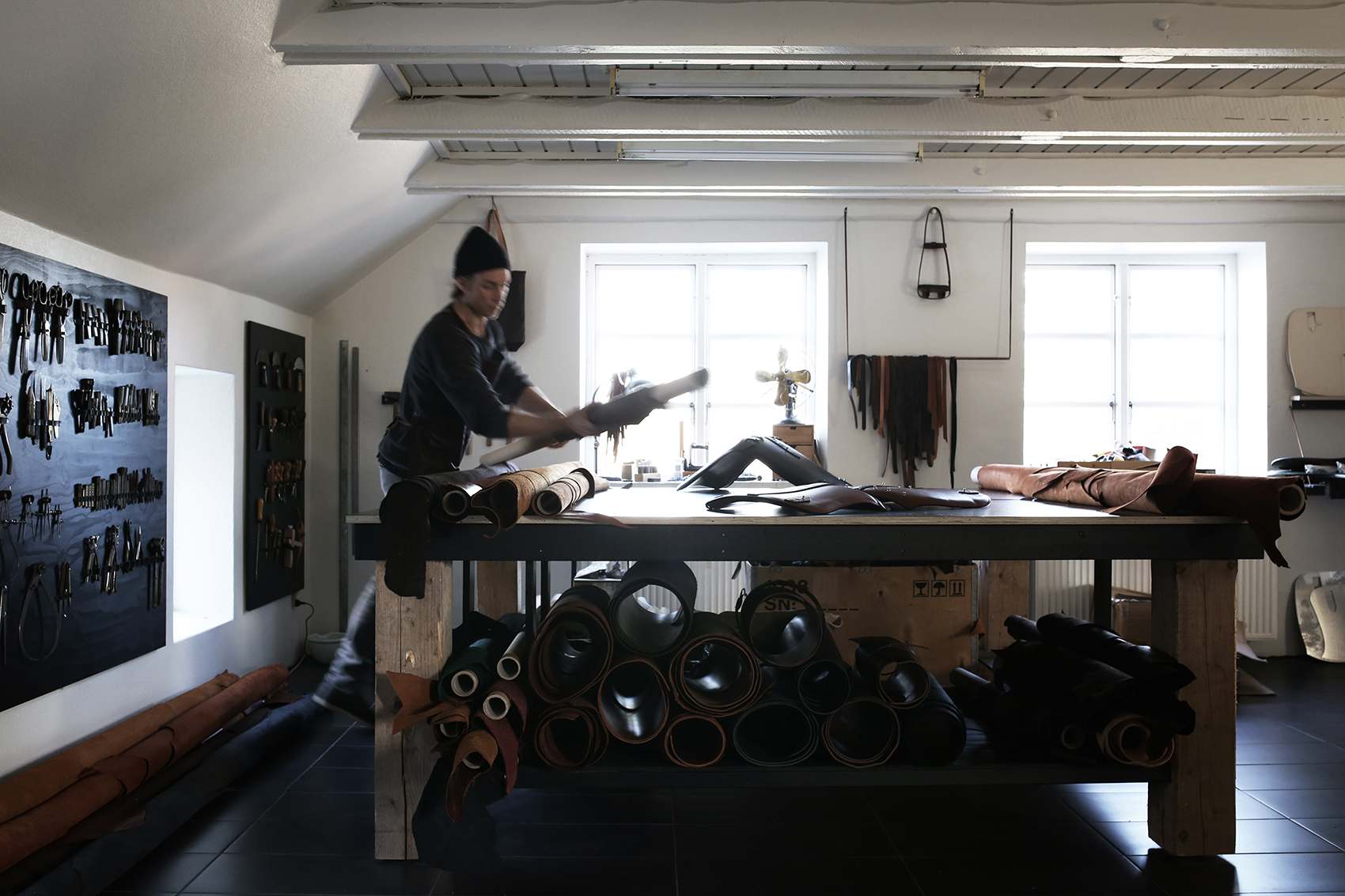 Alpha males, each in their own part of the country
Today, Christian Dyrman is in charge of the transition from development to production. He takes care of the day-to-day management at the workshop in North Jutland, while Jasper sits in the Copenhagen office and manages the initial part of the design process, as well as PR and media. Jasper looks up with a good deal of humour in his eyes: "We are a pair of alpha males. It could easily end up with us talking and discussing things all day if we shared the same office," he says.
Christian nods in agreement and says: "When we decided to start Overgaard and Dyrman, we were both employed in each our own parts of the country. I'm originally from Northern Jutland and Jasper is from Zealand, so it had a lot to do with what we both wanted. I didn't want to move to Copenhagen just because it's supposed to be the right thing to do. I wanted to live here. Those are the conditions and we just have to make it work. In addition, a large part of the subcontractor and production world in Denmark is here in Jutland, and a large part of the design and marketing world is situated in Copenhagen."
No thanks to outsourcing
Back to their days of studying; and one of the partner's projects leads to collaborating with a company who wants to put the furniture into production. They try unsuccessfully in India, followed by China with the same result. "A prototype was made that wasn't at all as we would have liked it to be, and that made us realise how difficult it is when you are so focused on details, and have so many opinions about how things should be done that you have to outsource it to another company as an intermediary," says Christian Dyrman and looks at his partner, who nods approvingly: "You must be prepared to compromise your work in order to adapt to that world, or do it all by yourself." The partners decided to choose the latter, quit their good jobs and put on their work clothes.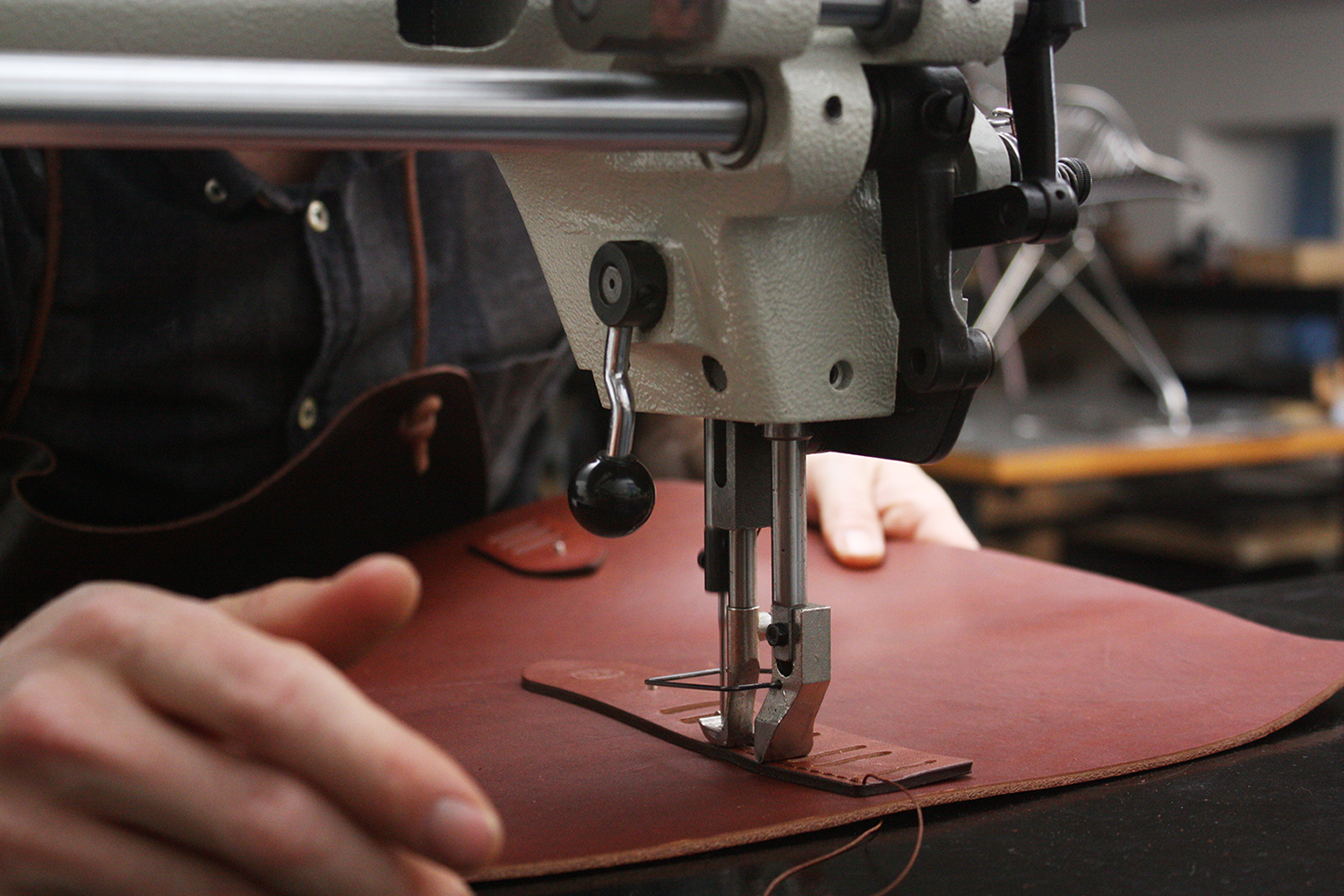 Can, will and do it yourself
Christian Dyrman brings out one of the chairs from their Wire collection. The leather is at the same time smooth, soft and firm. The shape is organic, flowing and light, even though it's made entirely of hardened steel. The result of the target-orientation, determination and uncompromising handiwork of these men is unique and one can't tell that the steady hands used to carry out this proud piece of work had almost been shaking with fear when the first buyers approached. But that's how it is when you want to do everything yourself. And the hands quickly learn how to speak the language of the merchant.
The cave of the dwarves in Northern Jutland
Just like the seven dwarves in the story of Snow White; Christian and Jasper work every single day of the year on their productions. They slave, hammer, pound and sew. And at the beginning of 2014, the diamonds appear. The buyers come from San Francisco and Switzerland.
Christian sits down on his chair and leans back. "And there we sat. We had to make distribution agreements and the buyers wanted to earn this and that much on the product. Learning about the world of sales has been a huge journey in itself. It can be both exciting and stressful," he says and Jasper continues by saying: "We're design and product nerds, and then we had to think about marketing and sales, establishing the company and increasing our production. An exhibition in Cologne proved to be the best thing we ever did. Not because of the exhibition itself but because of the material we needed to make for it." It was especially the bloggers who gave the partnership a good start. "They're the ones who say what's new and chic and our customers read these blogs," says Christian.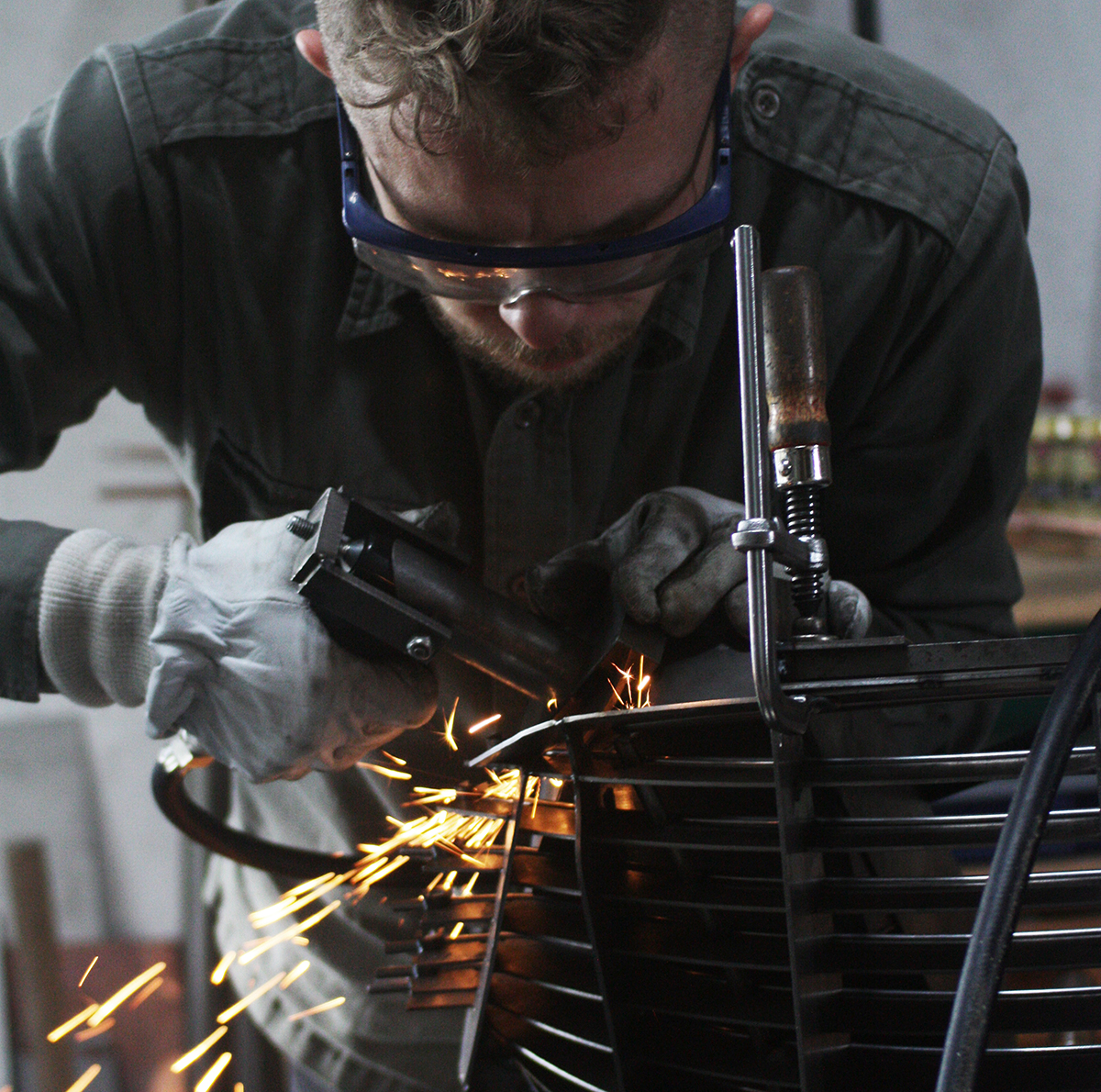 "Rushed design is a 'no-go'."
There's no doubt that the customers who buy Jasper and Christian's furniture know sa great deal about aesthetics and that they will pay to be fascinated by the impressive details, but they are also a demanding target group. Oil for the partnerships' fire is fortunately, in high demand. Christian and Jasper have a burning need to create products where they can vouch for every welded joint and stitch and where every detail has been tuned, tested and worked out to a level of near utopian perfectionism. But this indomitable intransigence is not always the easiest of paths to follow.
Japser explains: "The fact that we have become what we are can also be a hindrance, in that we do everything ourselves. We make our own tools to make the furniture with, control our own economy and make our own marketing material all the way from taking the photos to the construction of our homepage. But it's necessary for us to have complete control of our products and not fall into the trap of rushed design."
Suckers for slow design
Christian and Jasper have made hundreds of chairs from the very first welding joint to the very last stitch. "You make your own decisions regarding what you want to do and we have decided not to compromise on our solutions. Our products must be good and that takes time. Things should have time to rest. We learned a lot about planning and milestones during our studies and I understand that approach, but you don't get the kind of depth we like by rushing things," says Christian.
Christian already had an education as a constructional ironwork fitter-machinist and therefore had the prerequisites for working with metal, but they had to learn how to work with leather. "Our work involves more saddlery work than classic leatherwork and as far as I know, we are using techniques from a largely extinct profession, since the last saddle makers in Denmark were educated some 40-50 years ago. It's exciting but takes time. And that's just the way it is."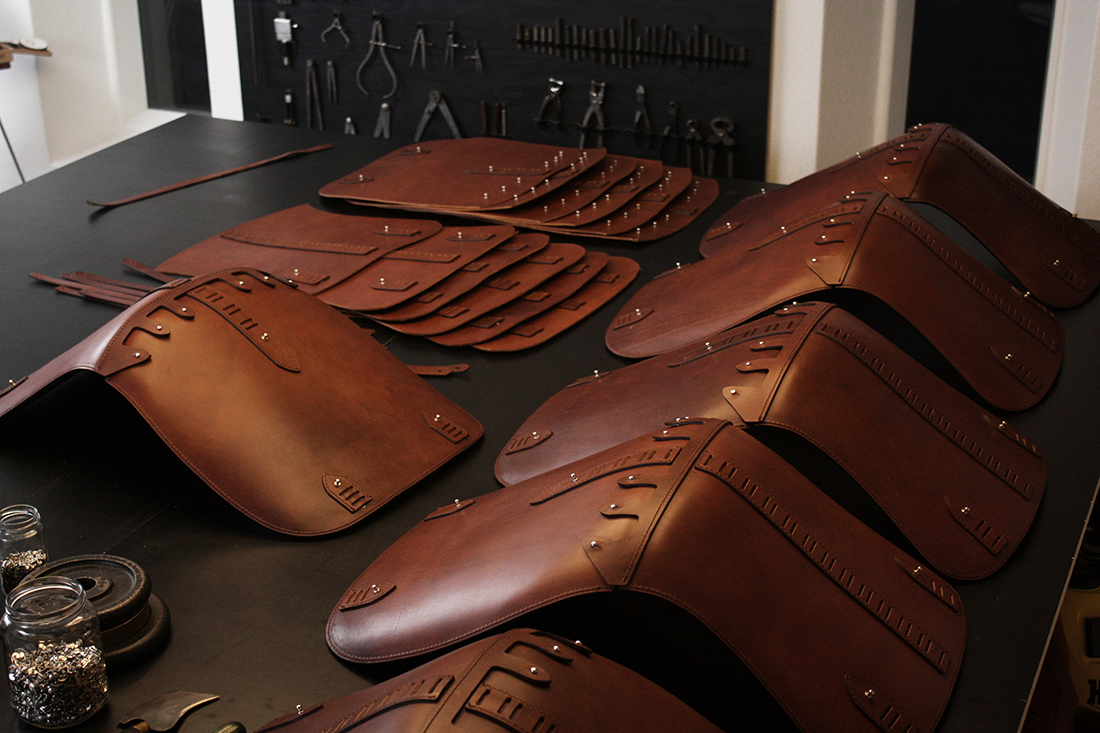 To bear a heavy legacy
Denmark is well known for its furniture craft with designers like Kaare Klint, Hans Wegner and Finn Juhl. Overgaard & Dyrman look up to these designers and are inspired by their approach.
"Much of the approach to the carpentry profession is about seeing what a material can do and the type of technical solutions it can offer. This approach is interesting but for us, the materials can be many things. In the Wire collection, we work with steel and leather but in the future, it could be all sorts of other types of material. The exciting thing for us is to find out what the materials can do and explore how we can push the limits while showing respect for the aesthetic," says Jasper.
"We don't think that plastic for example, is particularly interesting because you can do almost anything with it, whereas with materials like steel, leather, wood and stone, there are things that you can and can't do. You therefore have to talk to the material you work with. For example, the steel we use in our chairs makes it possible for us to make lightweight constructions but it's not very comfortable to sit on. We therefore use leather that is usually used for making saddles. Exploring the best use of individual materials down to the tiniest detail was also the approach used by, among others, Wegner and Klint," says Christian.
Combination of human and machine
"If you focus on craftsmanship only, you'll soon produce something that's very unique. Modern techniques on the other hand, can easily become too much and the furniture only a product of what the machine can do. We try to draw on the best of the new techniques and the best of the old craftsmanship traditions and combine the two," continues Jasper.
Christian points at the thin threads of steel that create the shapes of their furniture, and says: "These were made on CNC machines. It would be totally impossible for us to make them ourselves. The first prototypes we made didn't turn out as we would have liked, as we tried to bend the material by hand, but by using machines you can make some really advanced curves. When we talk about welding however, many people ask why we don't just use a welding robot but the tolerances provided by such a thing simply wouldn't work. This kind of work requires the skill of a craftsman to do the welding. A welding robot is stupid and unable to correct inaccuracies. A human hand can."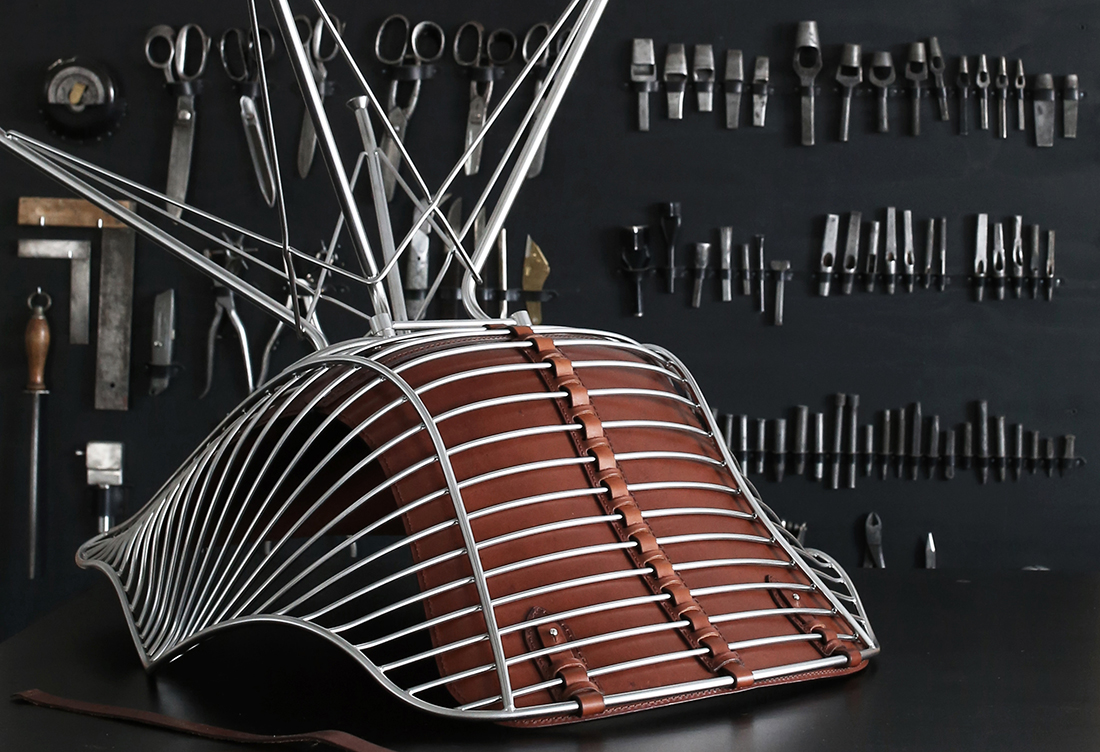 Workshop and nursery
Ten years after two men met at university, people from Sydney to Singapore are sitting in their furniture. The success meant increased production and the company now has four employees consisting of two smiths and two leather workers, in addition to the partnership couple themselves. This has allowed more room for family life and both Christian and Jasper will now pass by the nursery on their way home from the workshop.
"In a way, it's a little taboo for someone who's been an entrepreneur to take time to have children. We know that this will have an influence on our time and focus. But we've nevertheless been a little in sync, as we were able to announce that we were to become fathers two months apart from each other," says Jasper.
New collection in 2018
The dream of the future is a production where the dream of totality exists; this is a place where people from various branches, both craftsmen and academics, come and go but all have a shared interest in exploring things in depth and a curiosity for what different materials can do.
"The dream of totality is where everything has been thoroughly prepared," says Christian Dyrman and reveals that their new collection will hopefully arrive in the spring of 2018 and that they are currently slaving away on details for braiding leather according to a specific method.
Only the future will tell if Overgaard and Dyrman can bear the legacy of the great Danish designers like Wegner and Klint, but the fascination of what can be done by making a little extra effort hangs impressively heavy in the storytelling workshop.
By: Sara Sohl Rasmussen
Photo: Overgaard & Dyrman